Dec 11 2013 12:45 PM | Gackt in
Cabal2
Cabal II is getting some regular updates from developer ESTsoft over in Korea, which is definitely good news. The latest, added yesterday, introduces players to a new tower defense mode, where waves creatures will attack from 4 directions while players guard the middle. The level requirement is a minimum of 45, while max number of players is 24. This special mode will see players from different servers automatically grouped, which seems pretty awesome. Boss monsters will appear at wave 4, 8 and 12, and they do seem really tough. Players will get to challenge the Hard mode upon completion. Of course, there will be new titles, weapons and armors as well. Cabal II is still scheduled for an English release in SEA and North America next year, apparently sometime during summer.
Source:
mmoculture.com
3 comments
Nov 27 2013 12:29 PM | Gackt in
Cabal2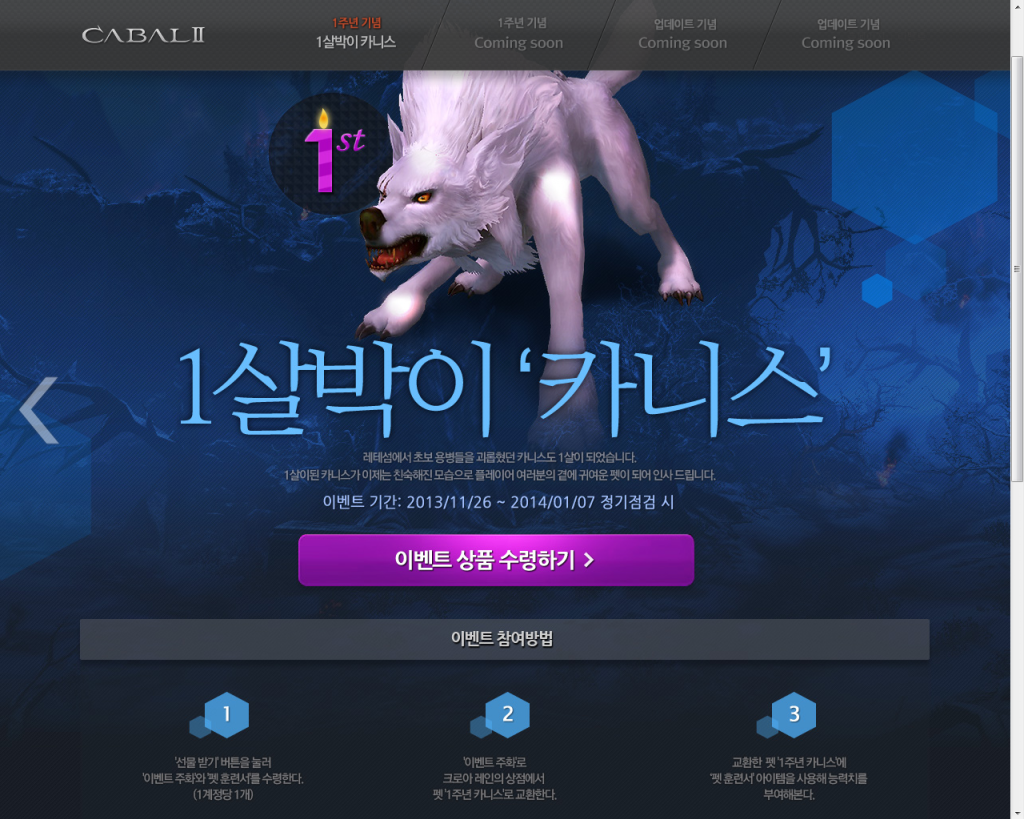 The Cabal 2 team is starting an event for it's 1 year anniversary. For the first part of the event each Cabal 2 player will receive a Free pet Wolf. The pet will have 3 open skill slots, 2 of them will be filled with skills and for the 3rd one you'll get a free book. Sadly the wolf won't be permanent, it will last 30 days after you pick it up.

So how do you get my reward ?
Well it's quite simple. First you log to
http://event.cabal2....w/oneyear-kanis
. Then you press the big purple button. It will request your log in information,and your character name. You log and, you are done. After that go to the game and you'll have a small coin icon on the right side of your skill bar. There you'll find a silver coin and the skill learning book for the pet. The location of the NPC that gives the wolf is shown on the 2nd picture.
0 comments
Nov 05 2013 01:01 PM | Gackt in
Cabal2
Asiasoft as the first English publisher for Cabal 2, signed the contract with developed ESTsoft only included Singapore, Malaysia and Thailand. Today they reported that the 2 sides have expanded the contract to include Philippines.
There is no news of launch date, but reports claim that the Southeast Asia and North America English versions will go live next year.
3 comments
Homepage